Do Dishwashers Differ In Size?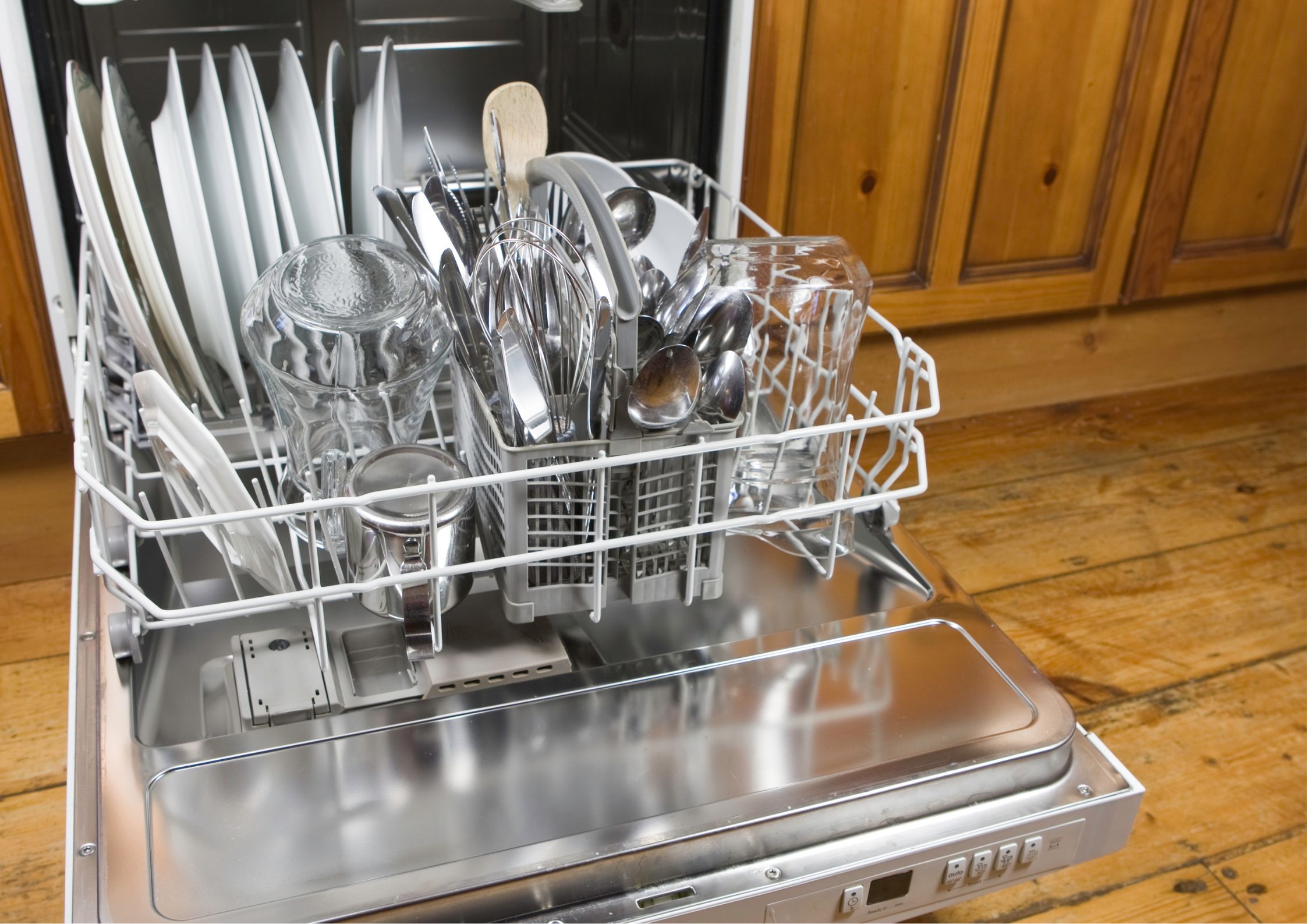 Image: Canva
As you would assume, dishwashers come in different sizes. They come in various forms and sizes. Depending on the model, dishwashers may be mounted beneath the counter or on top.
Choose a certain sort of dishwasher that will fit into your kitchen area, depending on the style of your sink. Certain versions also have extra functions like a timer or a start delay button. Choose an environmental setting mode to wash dishes at lower temperatures than regular settings if you want to save water and power expenditures and energy usage.
How Do Dishwasher Dimensions Differ?
There are many dishwasher sizes from which to pick. The majority of dishwashers will be the same size regardless of the model. This indicates that not all dishwashers on the market are the same size. Particularly the full-sized or regular dishwashers are largely uniform across all types.
Full-sized versions typically measure 24 inches wide by 19 inches deep. However, some are smaller, measuring 23 1/2 or 23 3/4 inches wide and 18 1/2 or 18 3/8 inches deep, respectively. 
For your new appliance to stick out only a short distance from underneath your cabinets when installed there, consider whether your countertop depth is shorter than usual. If it is, consider choosing an under-counter model rather than a freestanding one, which tends to sit higher off its baseboard because of their larger motors' need for more clearance underneath them.
Size & Kind Of Dishwashers
Image: Canva
A freestanding full-sized dishwasher is made to fit almost any place in the kitchen.
Most freestanding dishwashers on the market are made to be 34.5 to 35 inches high, 24 inches wide, and 24 inches deep (87 cm to 89 cm x 60.1 cm x 60.1 cm).
Another full-sized dishwasher option that is incorporated into the kitchen cabinet for a cleaner, more uniform appearance is the integrated dishwasher. The two full-sized dishwashers are almost the same size; the only variations between them are completely cosmetic.
Slimline dishwashers are scaled-down versions of full-sized dishwashers that often have varied widths but the same height and depth. Usually, they are 34.5 inches high, 18 inches broad, and 24 inches deep (87 cm by 45 centimeters by 60 cm). Floor-standing and countertop variants are the two basic variations of countertop units. 
As long as an outlet is nearby, both kinds provide compact solutions for tiny kitchens or those without enough space for full-sized units. These versions must be linked to the kitchen faucet and have access to power. 
Each measurement has no industry-wide standard, although most countertop versions are between 17 and 20 inches high and 16 to 22 inches wide. Their bigger counterparts are between 34 and 36 inches high and 20 to 24 inches wide.
Floor-standing and countertop variants are the two basic variations of countertop units. As long as an outlet is nearby, both kinds provide compact solutions for tiny kitchens or those lacking space for full-sized units. This is because both models need power, unlike the other varieties listed above, which rely on water pressure. 
There is no industry-wide standard for each measurement, although most countertop versions are between 17 and 20 inches high and 16 to 22 inches wide, while their bigger counterparts are between 34 and 36 inches high and 20 to 24 inches wide.
What Is The Most Typical Dishwasher Size?
Dishwashers come in various sizes, but it's crucial to remember that the actual measurements might differ significantly. For instance, most commercially available conventional dishwashers will measure 35 inches in height, 24 inches across, and 24 inches deep. Some manufacturers construct bigger models (up to 48 inches deep) for smaller kitchens or limited space, while others make tiny ones.
The size of your kitchen and the amount of room you provide your dishwasher are important considerations when deciding which one is best for you. Purchasing a model that is too small might lead to messy and ineffective cleaning, and purchasing more than you need is also not ideal! The easiest method to determine whether anything will fit in your house is to measure it beforehand and, if necessary, get advice from a professional!
Selecting A Dishwasher Size: Some Things To Consider
Image: Canva
The size of your kitchen and the number of dishes you produce each day should be considered when selecting the size of your dishwasher. Even while a smaller dishwasher could be more economical and energy-efficient, it might need help handling heavy dishes.
To ensure your dishwasher will fit correctly, measuring the area where it will be put is crucial. For optimal ventilation and to make loading and to unload the dishwasher simple, you should leave ample space around the appliance.
To choose the right dishwasher size for your requirements, read product reviews and compare several models before making a final choice.
Is It Worthwhile Purchasing A Bigger Dishwasher?
Does your new, improved dishwasher fit in the available space?
It may not be smart to move from your current apartment to a larger and more modern one if you live in a tiny one. When buying a dishwasher, the size of your kitchen is also crucial since some dishwashers are small but some models are huge and cumbersome, which might cause issues if there needs to be more room for the equipment. It is recommended to take measurements of your cabinets before consulting a professional.
Does the size of your family necessitate an upgraded dishwasher?
Whether it's ideal for you or not entirely depends on how many people are currently residing in your home; if just two people are living here, there should be no need for anything very sophisticated or pricey since they most likely won't even fill it up once every few weeks—or even months! Also, depending on how often dishes are washed vs. cleaned by hand throughout a person's lifetime, this element might alter significantly, especially if youngsters grow older and eat more meals outdoors.
FAQs
How can one tell if a dishwasher will fit?
From the opening's rear to its front, take a measurement. A minimum of 27 inches should be left in front of the dishwasher to easily load and unload dishes, as well as adequate space between the open door and any worktops or islands for movement.
Are dishwashers simple to install?
If you have taken accurate measurements and your new dishwasher will fit in the area beneath your bench, replacing an old dishwasher is a pretty simple task. Power, water, drainage, and all the other necessary infrastructure are already in place.
Should I take measurements for a new dishwasher?
Although the width of a dishwasher is typically 24 inches, it's still crucial to measure the available space in your kitchen before investing in new equipment. By taking precise measurements, you can be confident that the new dishwasher you choose will fit into the cabinet opening perfectly. Dishwasher sizes might vary.
Just who should install a dishwasher?
A plumber is the one to call for dishwasher installation, as with everything water-related in the house. Plumbers daily deal with the various rules that must be followed regarding residential plumbing.
How much should I budget for a dishwasher installation?
For a simple installation into an existing infrastructure, professionals charge between $100 and $450, with an average of $190. As an extra benefit, they will handle disposing of your old dishwasher for you.
The Bottom Line
About are all dishwashers the same size, choosing a dishwasher is not a "one size fits all" situation. Making the right choice for your house involves considering several things. You must examine your available space, the typical size of dishes used in your home, the number of users of the machine at once, and the size of the dishes that will be used.